Regular price
$79.99 USD
Sale price
$79.99 USD
Unit price
per
Sale
Sold out
Experience the luxury of patented technology that automatically and securely opens the door as you arrive home. Just drive. Watch the Demo Video  (Optional vehicle sensor is REQUIRED for iPhone users to have the auto open and close feature. Android users also need a vehicle sensor if the vehicle does not have bluetooth.)*
Comes with everything you need to operate 1 garage door and is expandable up to 3 doors per controller with additional door kits sold separately.
*
If you have a Chamberlain, Liftmaster, or Craftsman branded opener
that has a
round yellow
"learn"
button, be sure to select
"YES"
during checkout when our website asks if you have one of these. Your opener requires special hardware.*
* Patented. May require Tailwind Vehicle Sensor. Please check Tailwind Vehicle Sensor page to determine if you need any for your intended use.
** You should always close your garage door yourself. The Tailwind auto-close feature is meant to be an "in case you forget" feature, providing extra peace of mind. Like all internet-based communications, there may be rare instances when communications between the mobile app and garage device are temporarily down, and auto-close might not work if that interruption lasts for an extended period of time.
***
NOTE: Please check for lift cable brackets at the bottom edges of your garage door where the lifting cables may be attached. If lift cable brackets are present and they glide up / down over the J-track they will collide with the Pro Door sensor. Please order the "above door" sensor kit if any part of your door glides up and down and covers the J-track.
Specifications:
Operation

Bluetooth
Yes
Custom Scheduling
Yes
Access Management
Unlimited Users
Max Number of Doors
3
Apple HomeKit integration
Yes
Amazon Alexa Integration
Yes
Google Home and Assistant Integration
Yes
Home Assistant Integration
Yes
Hubitat Integration
Yes
Local Control APIs
Yes
Firmware Upgradable
Yes

Control Module

Wireless Protocol
802.11 b/g/n
Hardware Encryption
AES 256 Bit
WiFi Encryption
WEP, WPA/WPA2, TKIP
Frequency
2.4GHz
Operating Temperature
-20C to 45C
Operating Humidity
10% to 90%, non-condensing
Ingress Protection
IP20
Relays
3x dry contact rating 1A @ 24VDC
Audible Alarm
Piezo Buzzer
Integrated Light
360 Lumen RGBW LED

Power Supply

Input Voltage
100V - 240V AC (50/60Hz)
Watts
10W
Output Voltage
5VDC
Output Current
2A
Terminal Style
USB Type B
Operating Temperature
-20C to 45C
Operating Humidity
10% to 90% non-condensing
Ingress Protection
IP20
Plug Type
North America
Safety Certification
UL
Power Supply Type
Class VI

LED

Power Supply
5V by Tailwind control module
Lumens
360
Color Temperature
4000K
CRI
75
Operating Temperature
-20C to 45C

PRO Door Sensor Bracket Kit

Material Type
Aluminum
Door Track Type
2" Standard J-Track

Magnetic Door Sensor

Electrical Parameters
28VDC / 0.5A / 100mΩ
Sensing Distance
52mm
Material Type
Aluminum
Operating Temperature
-40C to 125C
Operating Humidity
10% to 100%

Wire Harness

Wire Gauge
24 AWG
Harness Length - Control Cable
1 Meter (3' 3")
Harness Length - Door Sensor Cable




10 Meters (32

' 9")

Connector Type
6 Position Locking
Wire Type
2 Pair 2 Wire, Stranded
Operating Temperature
-20C to 45C
Operating Humidity
10% to 90%, non-condensing

Wire Clips

Material Type
ABS
Mounting
Peel & Stick

Certifications

FCC/IC
Yes
UL
Yes
What's Included

TAILWIND IQ3 CONTROL MODULE
1 PRO DOOR KIT - If you have 2 or 3 garage doors you want to control, add 1 or 2 more door kits to your cart.
WIRE CLIPS AND OTHER INSTALLATION AIDS
POWER SUPPLY - Universal voltage, North American plug (use a wall plug adaptor or a phone charger for use in other countries)
QUICK START GUIDE
1 YEAR WARRANTY
LIFETIME SUPPORT
Share
View full details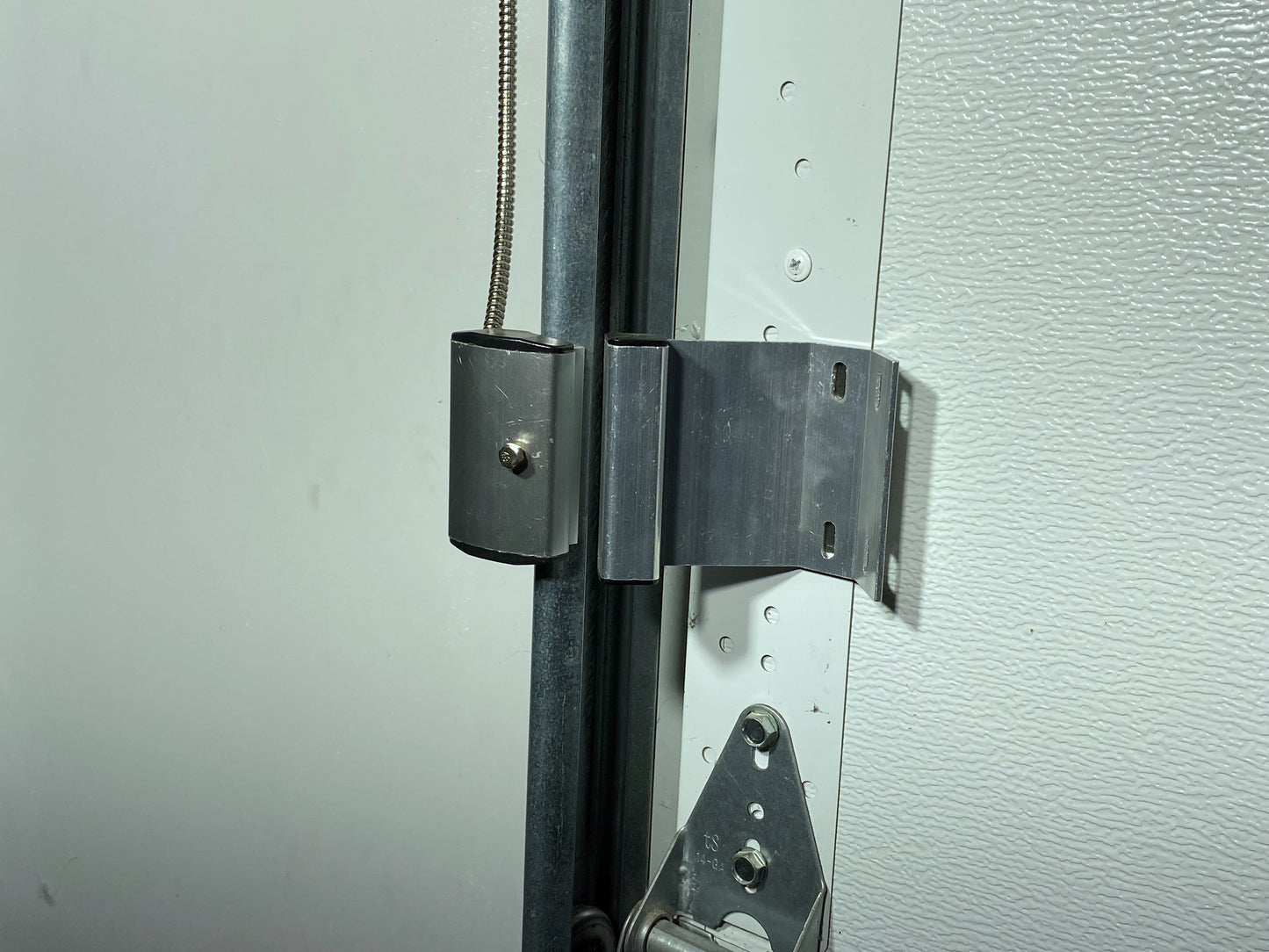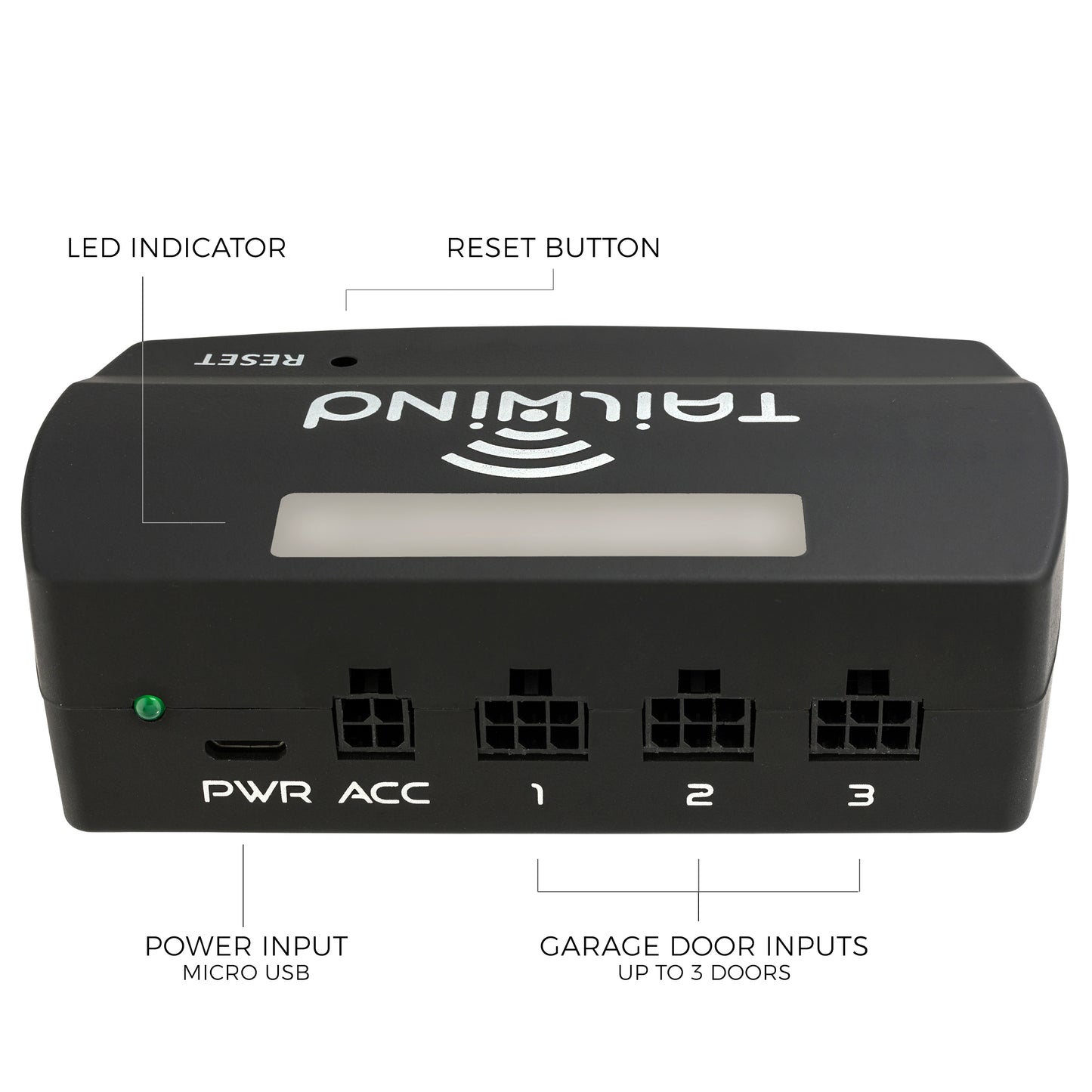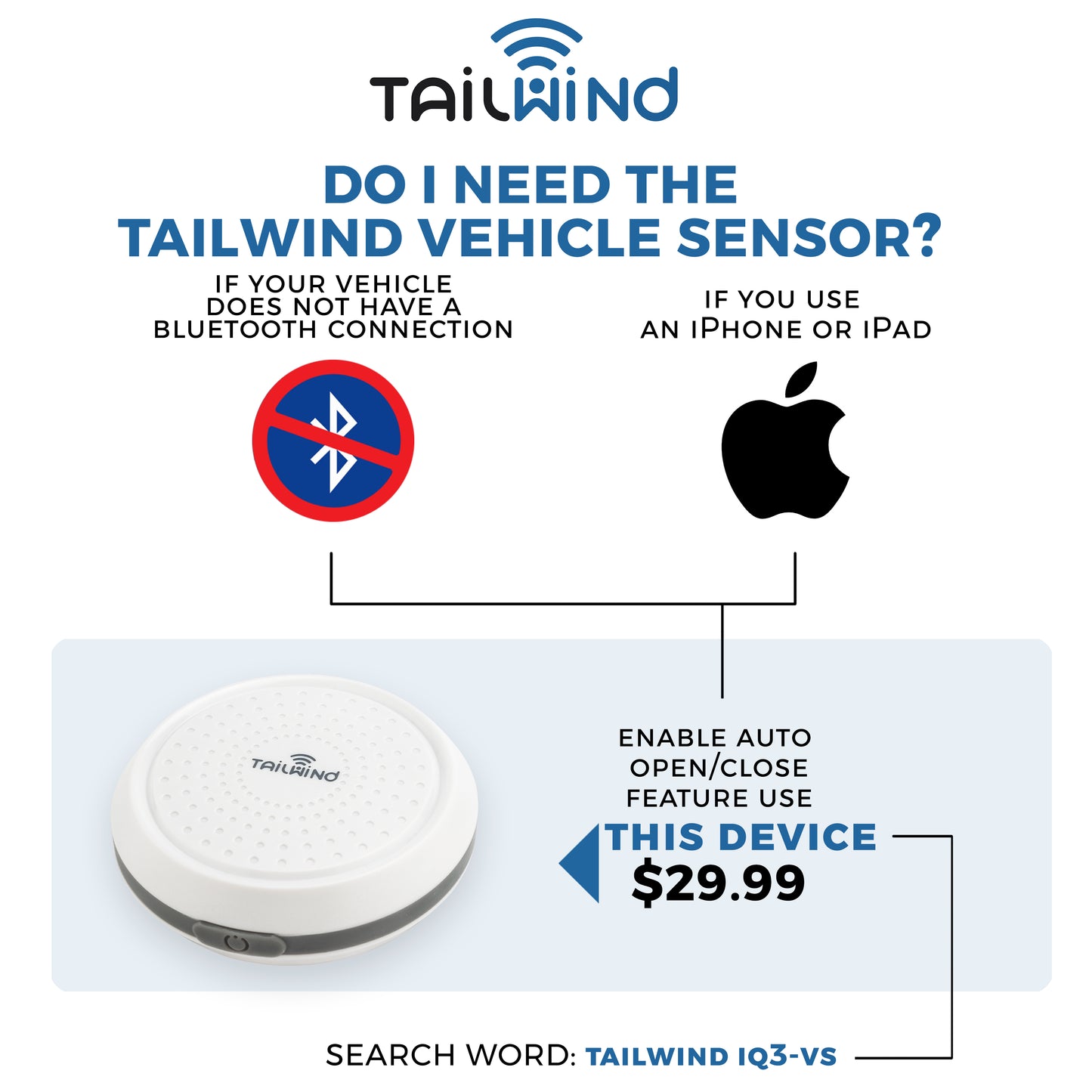 Experience the Luxury of Patented Technology

Tailwind has patented technology that automatically and securely opens the door as you arrive home. Just drive.

Watch the Demo Video (Optional vehicle sensor is REQUIRED for iPhone users to have the auto open and close feature. Android users also need a vehicle sensor if the vehicle does not have Bluetooth.)*

Closes the door automagically when you leave (if you forget to do it yourself)** (may require optional vehicle sensor - see above)*

Easy to install and convert your existing garage door opener

Comes with everything you need to operate 1 garage door and is expandable up to 3 doors per controller with additional door kits sold separately

Includes a commercial-grade, robust door sensor that quickly and easily mounts to standard J-track***. Automating the largest entrance to your home starts with rock-solid door position sensing.
Extra long sensor wire - suitable for high ceilings - 10 meters (32'9")
Features of the iQ3
Works with Apple Watch and Android Wear OS watches

Unlimited users - share access with as many people as you like

Customizable alert schedule - only receive notifications when you want them

Open, close, check the door status and receive customized alerts anywhere in the world using your smart device and the free Tailwind iOS or Android app

Unique "Night Mode" is far more secure than a simple "close at 10PM". If the door opens at any time during the night, Tailwind's "Night Mode" will close it again after a few minutes.

Robust sharing rules - grant access during scheduled times on specific days of the week, or one time access, or full access. Revoke access instantly if / when necessary.

Configurable partial open. Just tap and hold on the door icon to partially open the door by the amount you want - perfect for airing out the garage

Notifications and event history both display the name of the person and automation, or integration that operated the door (ex. "Alexa opened door 1", or "Adam closed the Harley door", or "Night Mode closed the main door")

Control who can see door history and who can't

Door Disable feature - allows you to disable the door until a certain time so you can work around the garage or yard without worrying about anyone operating the door remotely, or you can disable it permanently until you want to restore function - useful for going on vacation.

Cross Family Sharing allows you to share access with other families and they can share access with you without having to log into different accounts

Optional "spoken" or "verbal" notifications "Your garage door just opened" make it easy to distinguish from other notifications

Timed Auto-Close if a door has been left open - configurable for up to 60 minutes, and you decide if you want to only be notified or if you want it to close.